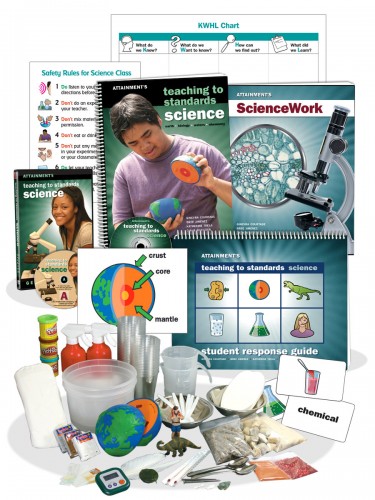 Grades

6 - 12

Product Code

SERIES

(

MR #064671

)
Product Features:
Core concepts include earth, biology, waters, and chemistry
Two years of classroom research demonstrates high effectiveness for teaching students with an intellectual disability or autism
A multiyear curriculum aligned with Next Generation Science Standards and the National Science Education Standards
Provides an extensive image library that can be used to create communication overlays and additional assignments
Teaching structure can be used for additional content from other science curricula like "Science Step by Step" or "Exploring Science"
Includes a hands-on experiment with each lesson
Two years of classroom research at UNC-Charlotte have shown this curriculum to be highly effective in teaching science vocabulary and engaging students with significant developmental disabilities in inquirybased lessons. Students participate in a hands-on experiment during each lesson. Response pages help them engage in the inquiry process. Their own ScienceWork Student Book provides extension activities. Teachers follow scripted lessons that provide clear direction for individual student accommodations. The experiment materials included in the Curriculum Plus make it easy to prepare for class. An electronic Image Library can be used to create communication overlays and additional homework assignments.
The program features four units with five lessons each, all aligned to science standards and general education curricula: Earth, Biology, Waters, and Chemistry. All students learn actual scientific vocabulary like pollution, precipitation, and condensation.