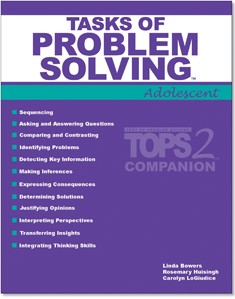 Tasks of Problem Solving: Adolescent
TOPS-2:A Companion
Grades

7 - 12

Pages

180

Format

8.5" x 11"

Product Code

31170

(

MR #065857

)
*Discontinued and no longer available.
Based on the research of Richard Paul, Art Costa, Jean Piaget, and Benjamin Bloom, these lessons help adolescents use deeper thinking to make personal decisions and think about the future.
This book is a compendium of language-based thinking skills. Each unit works on a specific skill and incorporates other thinking skills as well. Instruction guidelines and skill-specific vocabulary lessons are in each unit. The activities are a therapy companion to the Test of Problem Solving 2 Adolescent (TOPS 2).
The units are:
Sequencing—Organize objects and ideas quickly and logically.
Asking and Answering Questions—Ask the right questions to gather relevant information. Answer questions appropriately by giving relevant information in the right amount and staying on topic.
Comparing and Contrasting—Gain deeper understanding for problem-solving by thinking about similarities and differences.
Identifying Problems—Use clear, specific language to state the problem.
Detecting Key Information—Improve efficiency in problem solving by identifying the critical information.
Making Inferences—Students think about what they know from past experiences and personal knowledge to form an inference.
Expressing Consequences—Determine logical consequences and express them effectively.
Determining Solutions—Paraphrase the problem and list possible solutions.
Justifying Opinions—Express opinions and explain or justify them to others.
Interpreting Perspectives—Understand key factors in evaluating others' perspectives.
Transferring Insights—Apply knowledge to new situations by asking oneself thoughtful questions.
Integrating Thinking Skills—Twenty five realistic situations with a photo and a brief description of the situation. Students use their past experience, logic, and general knowledge to answer thought-provoking questions.
Extra helps include:
glossary of vocabulary for problem solving
outline of Richard Paul's higher-order thinking skills
Art Costa's sixteen attributes of Habits of Mind
overview of Jean Piaget's Concrete and Formal Operational Stages of Development