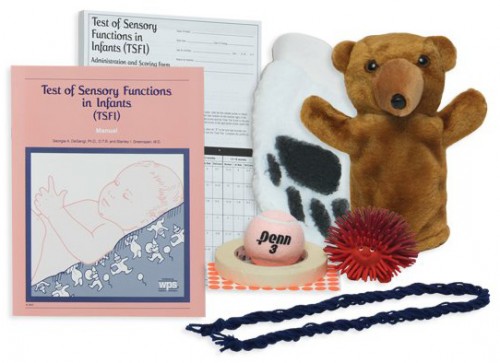 Test of Sensory Functions in Infants (TSFI)
Complete Kit
Ages

4 - 18 months

Testing Time

20 minutes

Administration

Individual

Product Code

W-262

(

MR #068165

)
* Qualifications required to purchase this item. Click here to complete the qualifications form.
* Regional restriction: This item is only available for sale within Canada.

*Contains small parts that may be a choking hazard for children under the age of 3.
*** DISCONTINUED (NO LONGER AVAILABLE) ***
This test helps you identify infants with sensory integrative dysfunction--including those at risk for developing learning disabilities as they grow older. The TSFI provides objective criteria that allow you to determine whether, and to what extent, an infant has deficits in sensory functioning.
Designed for use with children from 4 to 18 months old, the TSFI provides an overall measure of sensory processing and reactivity, as well as scores on the following subdomains:
Reactivity to Tactile Deep Pressure
Visual Tactile Integration
Adaptive Motor Function
Ocular Motor Control
Reactivity to Vestibular Stimulation
Composed of 24 items, the TSFI can be individually administered in just 20 minutes. The items require simple interaction with the baby, who is seated on the parent's lap, with bare feet and forearms exposed. The therapist touches the child or presents various stimulus materials and then records the child's reaction using clear-cut scoring criteria.
The TSFI can be used to assess infants with difficult temperament or developmental delays. It is also an excellent way to evaluate high-risk premature babies who may later develop learning problems. Brief, carefully constructed, and easy to administer and score, the test makes it possible to routinely screen infants for sensory integrative dysfunction.